Ranford Veterinary Hospital
The friendly Ranford Vet team have been caring for pets in the local community since 1996. We pride ourselves on providing great customer care and the best in Veterinary services.
The Hospital is modern and well equipped, and is located on the corner of Wilfred Road and Rangeview Place (Just off Ranford Road) in Canning Vale.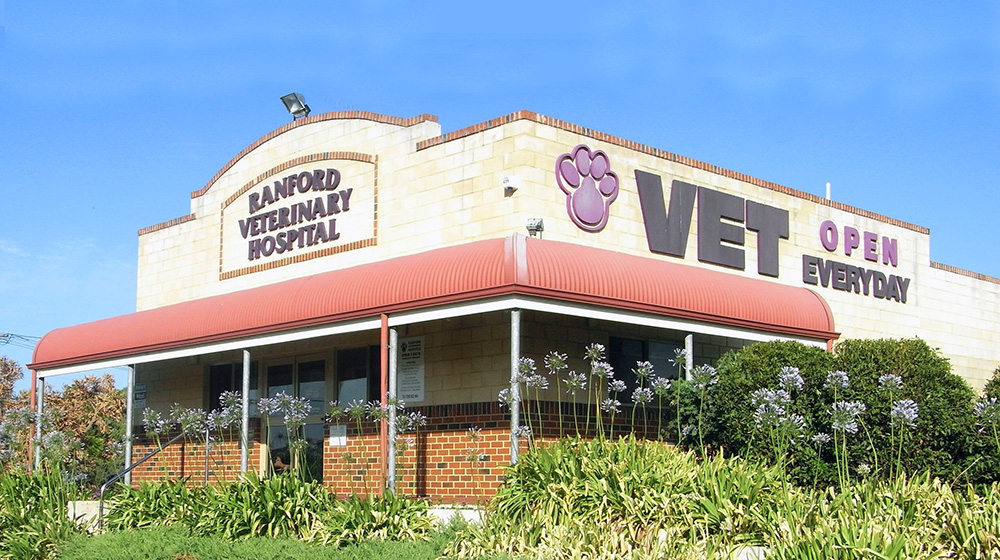 Consultations
We're open 7 days a week for your convenience.

Surgery
We perform routine surgery from Monday to Friday, with admission from 7am to facilitate early drop off before work.

Puppy & Kitten Care Visit
We perform a complete exam, update any vaccination or worming status, and address any concerns that you have about your new family member. Bonus: we hand out a Puppy/Kitten Checklist so you will never miss a beat!

Puppy School
Puppy School Classes for puppies between the ages of 8-18 weeks. We book up quickly for these popular and fun classes, so please book early to avoid disappointment.

Dietary Advice
We stock a good range of premium Hills, Royal Canin, and Delicate Care dog and cat foods, and SPD Prime100 dog food. Please ask our trained Nurses or Vets if you require advice about the correct diet for your pet.

Microchipping
A permanent source of identification for your beloved pet, which will prove invaluable if your pet ever becomes lost. This is done through swiftly inserting a chip about the size of a rice grain under the skin of the neck between the shoulder blades

Parasite Prevention
We stock a variety of flea, worming, heartworm treatments, shampoos for all coat types, harnesses, and other pet accessories.

Kitten Adoption
We assist in the re-homing of stray cats, kittens, rabbits and birds. 

Specialist Referrals
Using our extensive network and experience in our industry, we have access to the best referral services in Perth.

Dentistry
Good dental health is achieved through regular checks and addressing dental disease through our state-of-the-art dental equipment and advice on maintaining oral hygiene for your pet

Diagnostic Testing
In addition to simple routine in-house tests, we offer an extensive range of diagnostic testing available to our patients through Vetpath Laboratory Services, who boasts qualified veterinary pathologists on-site for advice

Grassed Backyard
Our grassed backyard allows our hospitalised canine patients to exercise and toilet in a more natural setting. Our anxious patients in consult rooms also seem to relax more for an examination or a nail trim on the grass
★★★★★
"Dr Kelly and all those at Ranford Vet Hospital provide a very high standard of medical care and attention, their ethical approach covers every aspect of care – undertaken with gentle kindness and compassion. We have attended Ranford Vet for years and have been totally satisfied with the efficient and effective treatment provided. I cannot speak highly enough of the attention, care, kindness and respect given to our beloved girl."
– Susan B., 5-Star Google Review
★★★★★
"The vet is a warm welcoming place to check out your dog or cat, or even buy some food for you loving pet. Once my dog ate chocolate, and I brought him to Ranford Vet, the doctors said that he had a low chance at surviving. About 3 hours later the doctor said that his heart pressure went down, and my beautiful dog survived that day."
– Cameron J., 5-Star Google Review
★★★★★
"Very supportive and knowledgeable staff, good with not only my friendly cat but my timid cat too. Helped us through emergency surgery and helped us through dental, kept informed throughout the process and well cared for during recovery."
– Ardent R., 5-Star Google Review

reception@ranfordvet.com.au
Opening Hours
Monday to Friday : 7 am - 7 pm
Saturday : 7 am - 5 pm
Sunday : 9 am - 12 noon
Public Holidays : 9 am - 5 pm
We are closed Good Friday, Christmas Day, Boxing Day and New Years Day
Consultations
Consultations are by appointment. Please contact the hospital directly.
Monday to Friday: 8 am - 7 pm 
Saturday: 8 am - 5 pm
Sunday: 9 am - 12 noon
A consultation surcharge applies Sundays and public holidays.